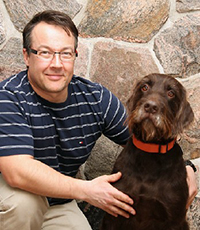 Dr Tom Foster is the Practice Owner at the Wellesley Veterinary Clinic. He is a graduate of the Ontario Veterinary College and has been with the Wellesley Practice since 1989.
In addition to providing preventative health care programs and treatment for routine to urgent medical concerns, Dr. Foster has a particular interest in Soft Tissue Surgery and in Veterinary Dentistry.
Growing up in Kitchener, life shaping experiences on family farms, in the outdoors and with childhood pets all led naturally to the pursuit of a career in Veterinary Medicine, a life long love of animals and a deep appreciation for the human/animal bond.
"It's very rewarding, as a career, to be able to help people on a daily basis with the health and wellness of their canine and feline companions. I'm very appreciative as well of the great Veterinarian/Staff team we have in place, all working toward the common goal of excellent client and patient service and care."
Dr. Foster, his wife and son currently share their home with "Blitz", an 11 year old Pudelpointer, and "Hudson", a 2 year old English Setter. The extended family also includes Janet's horse "Kallie", a 13 year old Canadian Warmblood Mare.