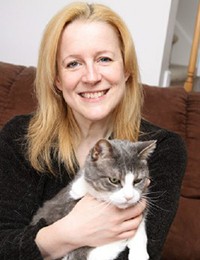 Dr. Tanja Bihr is an associate veterinarian at the Wellesley Veterinary Clinic.
"I graduated from the Atlantic Veterinary College at the University of Prince Edward Island, and completed a one year equine internship outside of London, Ontario, before I arrived in Wellesley.
My family is in Riverview, New Brunswick, but I have come to love south-western Ontario and the people here, and have chosen to set down roots here. I live with 2 beloved furry feline kids, food-obsessed, and super affectionate 16-year old Chubbs, and opinionated and diva-like 11-year old Chloe. In my spare time, I am very much a fan of the outdoors and enjoy hiking and backpacking, as well as reading novels, watching movies, and spending time with friends. I split my time between treating small companion animals in Wellesley, and working with equine companions for the Milverton-Wellesley Veterinary Services.
There was never any question as to what I would be doing with my life. I grew up in Germany and I knew from the time I was a very small child doing pretend-surgeries on my stuffed animals that I wanted to be a doctor for animals. I never waivered in the pursuit of my dream, and managed to complete a Bachelor of Science and Master of Science degrees before ending my schooling with a DVM degree and an internship. I grew up with dogs and horses throughout my childhood and youth, and I have had feline roommates since my university days. I am a compassionate veterinarian and I care very much about the welfare, happiness, and well-being of my patients and their humans families. I am very happy to work with an incredible team of support staff and fellow veterinarians at the Wellesley Veterinary Clinic."