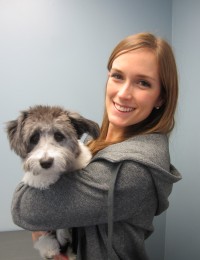 Cash is a Veterinary Technician at the Wellesley Veterinary Clinic.
"Being born and raised in North Bay, I had never heard of the small town of Wellesley. Shortly after graduating, I was visiting my sister in Kitchener and stumbled upon the Wellesley Vet Clinic online. I was drawn to the rural aspect of the practice and the small town feel of it's location despite it's close proximity to the city. One moment I was enjoying the scenic drive through farm country, resume in hand, and the next I was packing my bags and moving to south-western Ontario to start my new career as a member of the WVC team!
Growing up I wasn't aware of the role of a Veterinary Technician and the joy it would one day bring me. I did however, always have an undeniable passion for, and interest in, animals of all species. I spent many years as an avid horseback rider – something I plan to continue. After high school I spent some time trying to determine how I could turn my passion into a fulfilling and satisfying career. That's when I found the Wildlife Rehabilitation-Veterinary Technology Program at Northern College. This advanced diploma was perfect in that it set me up for a successful career as a Veterinary Technician, but also allowed me to study Wildlife – one of my greatest interests.
My role at the Wellesley Clinic is diverse. To summarize, I assist the veterinarians in all aspects of caring for both the patient and client. This includes running various lab tests, taking radiographs, monitoring pets during anesthetic (to name a few) and openly communicating with owners regarding updates, results, and how we can help meet their needs. As hectic as it can sometimes be, I'm sure to find time for a healthy amount of puppy cuddles and hang-outs with any pets that may be staying with us that day. I can honestly say I'm passionate about all aspects of my job with a keen interest in assisting the vets throughout their diagnostic process. It's very rewarding witnessing them form a diagnosis and develop a treatment plan to help a pet. I am very fortunate to be part of such a great team and to work with so many great clients!
Due to working long days at the vet clinic I do not have a pet of my own. My sister, who also lives in Kitchener, owns a cat named Lucy so I'm happy to be "Aunty Cash" to her. When I'm not at work, I'm sure to surround myself with animals however I can, often spending time on farms, with friend's pets and occasionally pet sitting.
Aside from being a Veterinary Technician I enjoy horseback riding and pursuing a fit and healthy lifestyle. I love to travel and experience new places. I spend as much time exploring the outdoors as possible, especially back home in Northern Ontario, and find great joy in most outdoor activities. Music has always been a large part of my life so I thoroughly enjoy going to live shows or growing my music library."