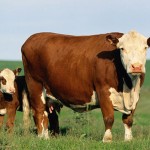 Our beef veterinary service provides producers with individualized herd health programs, designed to optimize animal health and productivity.  We offer the following services:
Emergency medicine and surgery.
Herd health programs to improve beef cattle health, while limiting treatments to only those that are necessary.
Embryo transfer services.
Vaccination program development to improve cow and calf health.
Calf disease prevention programs.
Lameness prevention and trimming services.
Farm parasite evaluation and treatment programs, including fly prevention.
Monitoring for resistance to anti-parasitic products.
Johne's Disease Risk Assessments, including the promotion of annual testing for Johne's disease and the implementation of strategies to reduce transmission on farm.